My Malaysian friend, Lai Heng, suggested trying the new Sydney hotspot 'Hawker' and what better thing to do than eat Malaysian food with a Malaysian friend. It really had the lovely feeling of successful contemporary Thai restaurants in Sydney like Home, House and Chat Thai – or of Mamak, the Indian-Malaysian restaurant, of the awesome rotis, and apparently the mother ship of Hawker.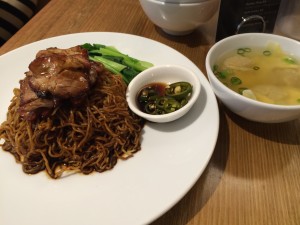 In any case, Hawker has a menu that's enticing and accessible and clearly has food that isn't dumbed-down for non-Malaysians at reasonable prices. It's focus is on Chinese-Malaysian food, rather than Indian-Malaysian.
We had two noodle dishes, a side or two, and those crazy ice-tea-coffee Malaysian drinks. The dish that didn't make it into a photo was the best. Stingray with a spicy sambal sauce. It was outstanding.
I went back about a month later. I had the Char Kway Teow (top photo) which was excellent, and we also had the salad to the left: Penang Rojak – yambean (jicama), pineapple, cucumber, fried tofu puffs and guava in a thick sweet sauce. To my taste, it was kind of weird.
I would give this place a try if you're in the neighbourhood. I think I may prefer the Indian-Malaysian street food with its rotis and curries; but I think there's a few standout dishes on this menu if you know what to order.