Dodee Paidang seems to be most infamously known for its Tom Yum soups, with noodles, that come in ratings from 0 (something like 'infantile') to 5 (volcano). The first time wewent here, we had a 3. It was so spicy, I couldn't feel my mouth nor taste anything else for 15 minutes. I notched it down to a two on the last visit, and it was still too spicy. Wimp.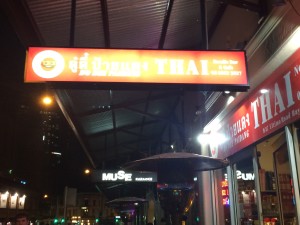 Still, the noodles have a great bouncy texture and the flavours are delicious. I just have to admit my defeat and go down to a 1 next time.Otherwise, I like this place because it really feels like a Thai restaurant to me in Thailand, not a Thai restaurant that's been made Sydney cool. I don't like the box of tissues substituting for a real napkin, but hey, that's what it's like in Thailand (when you've not gotten a roll of toilet paper instead). The dessert bar in the back, filled with mysterious multi-coloured gooey things, also looks authentic, and the staff have that particular flare of authenticity and rather short skirts on the second time I
was there.
The food was bloody good. A little appetizer of crispy pork skin, a wonderful papaya salad…
Grilled beef skewers, and the afore-mentioned soup.
Our favourite, unexpectedly, was the soft-shelled crab. Perfectly crisp. 
And the damages? Except for a tingling tongue, they were little: just over $40 for lots of food and variety for two people. Wow.