Wow. Four years since I've been to Buffalo Dining Club, and it's refreshing to see a restaurant that found a great formula, stuck to it, and that it's still doing booming business.
On a Friday night, it was packed, with a line-up (lucky we got a reservation) and frankly, I did find the tiny table for two at the side of the restaurant a little … small, with little space between us and the backs of the big guys at the shared table.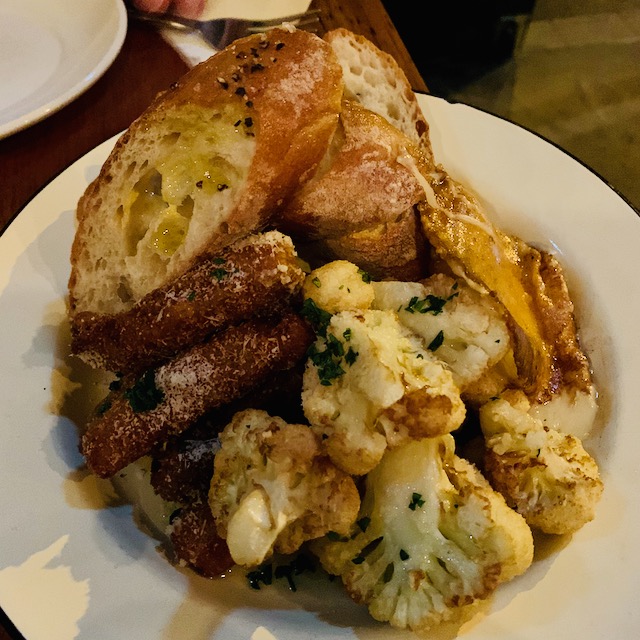 So, we had the same thing as we would have had years ago. The special cheese plate (this time with smoky scarmorza, delicious), crispy eggplant fried and fried cauliflower.
We split the special pasta of the day, linguine carbonara.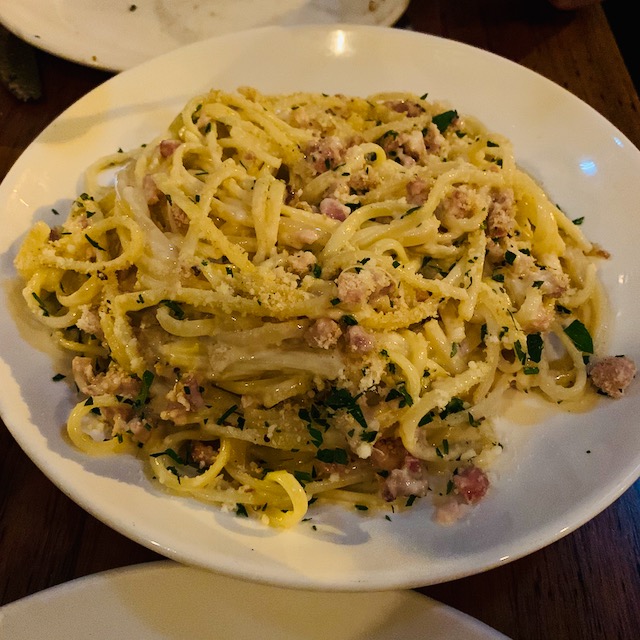 The revelation was the tomato salad. With mango! And the freshest, most flavourful little heirloom tomatoes ever. A perfect salad.
Oh, and we like their cocktails too (and since the wine is pricy, it's a good option).
Just went to Buffalo Dining for the second time. The first was for lunch in Sept 2015 with Johnny, and the second time was for lunch in Nov 2016 with Johnny. The thing is: lunch is a great time to go, for while I'd always wondered about this place, and heard good things too, every time I'd been by in the evenings, the line-ups were ridiculous. The waitress told us that on Friday and Saturday nights it can be up to two and a half hours!
So, what nicer thing to do than head in for lunch. Wednesday to Saturday.
It's a simple menu, recommended to start with a cheese of some sort with two sides for $20. The first time, wee opted for the burrata (my god, how can you not like a burrata) with eggplant (crispy, delicious, breaded sticks) and brussel sprouts and chorizo (perfect).
This latest time a creamy goat cheese with deliciously fried mushrooms and oh, we ordered the eggplant again.
Then you can also have a salad. We passed on this during our first visit, but this time, we had a simple grilled greens with buffalo mozzarella. It was a little salty I have to say but otherwise perfect, and I love the ceramic plate, imitating either a paper plate, or a tin foil pie pan.
Next choose from a few different pastas, though the cheese and pepper one isthe most popular.
Listen, readers, I was blown away. I love food that you can interact with, and I love a gimmick (my partner will attest to that with the number of food gadgets we have in our kitchen). So, fresh pasta that is tossed inside a wheel of cheese, with more tasty cheese scraped out on top of it, served in a bowl with a side of delicious hot pepper sauce.
Of course, I was so stuffed that my work productivity dropped that afternoon to near-zero. But those are the sacrifices we make. I would have been worse if I'd had a glass of wine too, but we thought it was a bit pricey and unusually, exercised moderation.
Finally, I love that this place is not just a restaurant but a lifestyle. The team are all dressed in the restaurant's t-shirts, a tough sort of skull motif, they've got tattoos galore, and one of the owners had a bandana around his long hair, his t-shirt tooked into his jeans with a big Western belt. It was kind of all perfectly right: 70s bikers. And why not?