My better half, S., asks me 'What's this obsession with bûches de Noël this Christmas?'
The simplest answer is that my family has been also obsessed with bûches de Noël, or at least one bûche de Noël for about 40 years.
But first, if anyone is unfamiliar, a  bûche de Noël, or yule log, or Christmas log, is a traditional French or Quebecois Christmas dessert, a sweet roulade with sponge cake named after the original yule log, a big log to be put in the fire during Christmas celebrations.
Our family's bûche de Noël comes from Notte's Bon Ton Pastry and Confectionary in Vancouver. The Christmas Log is beautifully decorated with marzipan mushrooms, and flowers and leaves made of butter-cream icing, dusted with chocolate flakes, covering a rolled sponge cake with a dash of alcohol (rum?) and more layers of butter cream inside.
If anything, we're faithful, we Quans, and once we'd decided this was our special Christmas dessert (not only because we liked the taste, but because it was slightly unusual in anglophone Canada), it was ours… forever. This cake, eaten in Vancouver, or… transported to Hawaii on a regular basis… was also frozen afterwards, if there were leftovers, and I somehow remember eating it well into the spring on occasional years (it was like magic pudding, it seemed to multiply out of sight).
This is the bûche from this year, 2014, transported from Vancouver to Hawaii, and very fetchingly displayed with some Hawaiian foliage (good job, family, on the presentation!). The frog pastries aren't a part of the log, but we always seem to stick them in, as the green marzipan and red butter cream match the colours quite well. And I suppose frogs would hang out on a log.
Living in Paris for a few months, I hadn't really considered that this would be an excellent place to try some yule logs… but a month or two ago, my friend Karyn sent me this link to some ridiculously luxurious Parisian yule logs. You see, she lives in NYC, and every time the New York Times writes an article about an amazing new restaurant or bakery in the Big Apple, I implore her to go… so I can eat vicariously. 'I'll eat the dumplings in Queens if you eat a gorgeous xmas bûche for me!' she replied, last time, and the challenge was on.
The next trigger was when we were visiting my favourite macaron store in Paris, Pierre Hermé. Buying their Christmas flavours (foie gras and fig, foie gras and chocolate, and white chocolate and truffle… perhaps a post for another time), the pamphlet they slipped in with our purchase included descriptions of ridiculously delicious-sounding yule logs… like this one. I had, in fact, made up my mind to buy a mandarin log, that served 2-3 people, and was… cough, 50 euros (the one in the photo is 80 euros). But when we went into the store, orders were only online, and while they tried to sign me up with an iPad, something went wrong. 
Instead, I came home, surfed the net, and decided that there many more yule logs to be had, at rather more affordable prices.
But even I was surprised by how many I was able to try. The first one, at the top of the page, was a surprise from S., because 'I was so obsessed'. It's from the bakery two minutes from here on Rue de Lombards appropriately named Boulangerie des Lombards. For a humble bakery, this pastry was pretty darn good. Its flavouring and texture reminded me of the one from Bon Ton. It's cute that they build it on a little cookie base.
The next one was a nice surprise, the dessert for our Christmas Eve dinner at Theatre du Chaillot, after a dance performance by the Batsheva Dance Company. Adorable, no? Mostly chocolate cream, a cute crunchy meringue star, and set on a sweet biscuit.
At Christmas lunch, at the amazing Atelier du Joel Robuchon Etoile, the penultimate course was an individual Buche de Noel, or perhaps I'm just pretending it was. They made it look like Santa's sleigh, calling it 'Le Traineau: parfait glacé á l'arielle, crème de marron de l'Ardèche, meringue croustillante'. The meringue cracker was a miracle of engineering, the star was of white chocolate, the splotch of chestnut cream with a flake of real gold flake, and a tiny ice cream log wrapped in red. Gorgeous.
My yule log research uncovered a wonderful discovery. Romain Lievre is a young and talented pastry chef who has opened up a store at 27 rue Saint Jacques on the Left Bank. Their website said they not only did a pretty chocolate yule log, at a reasonable price, but individual logs for 6 euros each. They looked tasty, interesting and a bargain. I was rather surprised then when I went into the store, and found that the individual version of the logs were in fact little santa hats. I thought I was culturally confused, but a fellow came in just after me, asked for the individual logs, looked at the hats and said, 'that's not a log,' and left. I bought them anyways.
What was completely delightful about these is that they look relatively simple, but the insides were a rich chocolate butter cream that seemed to have a sophisticated flavour, and another bit of non-chocolate cream or icing.  There was also a small blob of coconut cream in the middle, soft and cold, surprising. S. didn't like that part but I did. On the whole the Santa hat was rather complex, and completely tasty. I'll be heading back there to try more of his pastries!
And finally… my favourite Belgian chocolate maker, Pierre Marcolini, also makes a version of a yule log, which seems rather conceptual. It's more like a little yule
house. They didn't have any available on Christmas Eve, so I ordered them for New Year's Eve, one each in three flavours: vanilla, chocolate and chestnut. I picked them up on the 31st though noticed that for all my plotting and worrying about getting yule logs, bakeries all over Paris had leftover bûches in all sizes in their display cases.
As for our gorgeous yule houses, one couldn't say that these weren't rich and creamy, but they were less so than the others, more restrained. The meringue roof concealed flavoured cream, there was another crunchy meringue and then below, another few spheres of creamy goodness and a raspberry or two on top of a meringue base. It was all a very refined combination and almost fooled one into thinking, with the meringue crunch, that it was light.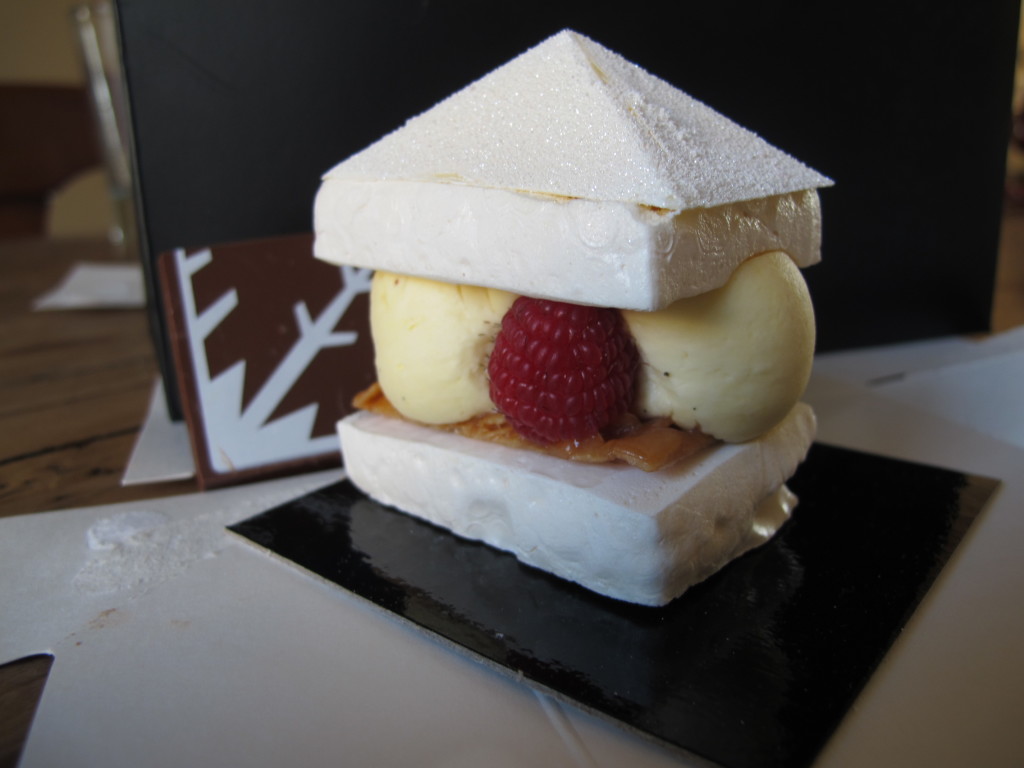 Five bûches. I think I've done my duty. I'm signing off to waddle off down the Seine.