Just over an hour outside of Paris, to the north, is the lovely city of Amiens, population of about 120,000. We were expecting, perhaps, that it would be the kind of place with just
one tourist attraction (the famous church, as above), but we were delighted to discover a pretty, varied location with just enough to do for a full day (we were there about 9 hours, from 9:30am to 6:30pm, perhaps a few hours too long).
The church, one of the largest in Europe, is impressive and as a labyrinth-lover, I was happy to discover a labyrinth at its centre, open to anyone to walk it (without clear signage, no one could really figure it out, but we walked it, and I loved its vibe).
We were also happy to discover Amiens as one of the French towns where you can just hop aboard a free bike (well, it cost a euro, but that counts as free to me). Their system is called the Vélam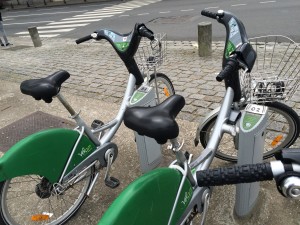 (velos from Amiens); the bikes are slightly lighter than in Paris, newer, and perfectly functional. It made getting around a little easier, and fun.
We walked through a fantastic market, with wonderful fresh produce, and sampled a local square of Neufchâtel, creamy and simple. My better half told me that in Australia that name has become synonymous with a plain cream cheese, but this is the real deal (and not a cream cheese). Traditionally, it's in the shape of a heart (I should have bought that!).
We found the houses charming and the neighbourhoods lovely; some great parks, and one area all filled with canals and houses, like a miniature version of Bruges or Amsterdam
perhaps.
A little further into some parkland and we stumbled on a neighbourhood with tiny cottages on plots of lands, all separated off by little waterways. All of them had either metal or older structures with stairs and a walkway to get across.
One of the most charming things to happen was when we were looking on our map for the closest bike station, and a man approached us to ask if we needed help. I had figured out by then where we were so said we were fine, but as he left, I realised that he had come out of the Donna Lee Bar Musical, a charming-looking little hole in the wall bar, to see if he had needed help. He
actually came out of his house! If I'd have known, I would have either thanked him profusely or pretended to be lost. Thank you, Mr. Donna Lee. What a nice fellow.
Which reminds me to say that Amiens is a small enough place that people look at each other in the street and smile, a bit of a shock after big city Paris. It was all rather charming.
As for other delights, we tried the local specialty, the Ficelle Picarde, which you can read
about here, though what's not to like about a rolled up crepe with melted cheese and swimming in cream. We tried chocolate tiles (thin ovals of chocolate, imitating roof tiles, nothing special) as well as the local macarons, which are not Parisian macarons but the coconut confections known in North America as macaroons. Tasty enough. I was rather charmed to find this chocolate versions of the minions in a store window (the busy shopping are was fun with mostly chocolate and pastry shops but other local specialties and the usual mix of clothes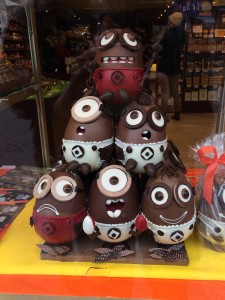 retailers).
We finally stopped by the Musée de Picardie, the local museum, which was a nice enough thing to do, with a history of the area, lots of archeological works, statues and sculptures, paintings from locally famed artists and others, in a beautiful old building. I couldn't resist taking a photo of this walking penis from the 2nd century.
All in all, what else could one ask for from a day: a new place, local tasty treats, some unusual sites, unusually friendly people?
Having no expectations at all really was part of the delight… leading me to this blog post, and wanting to share a recommendation. Looking for a day trip out of Paris? Grab a train to Amiens. Hopefully you'll be as delighted as we were.