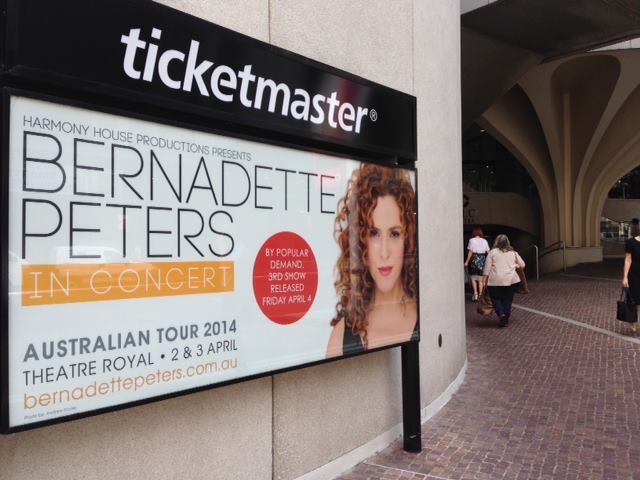 Bernadette Peters is touring Australia and dropped by the Theatre Royal for three nights as part of her concert tour. We vascillated at first about going (revoke our show queen passports!) but grabbed seats for an additional show that was added on a Friday night (after she'd performed Wednesday and Thursday).
I remember Bernadette Peters from television as a kid, but it was after I arrived in London in the last 90s that I heard her name, spoken breathlessly by show queens. She'd returned to the stage and had particularly made a mark in Sondheim's shows 'Sunday in the Park with George' and then originating the role of the Witch in 'Into the Woods'. Aside from seeing videos, I've seen her twice on stage. Firstly, in an odd version of 'Gypsy' which  I wasn't wild about, and was sort of bummed out that I hadn't chosen to instead see Vanessa Williams in 'Into the Woods'. Then, in 'A Little Night Music', I remember a stunning performance and finally understanding what the song 'Send in the Clowns' was about, both in terms of the character it was sung by as well as the emotion behind it.
Seeing her at the Theatre Royal was a bit of a thrill, and also felt like a privilege. I've always found this particular theatre rather downtrodden, with a strange eclectic mix of shows. It's certainly not the Sydney Opera House. But in this context, with pretty good seats, and a small venue, it felt particularly intimate. I seem to recall the NYC theatres I saw her in before as massive…
It also felt very old-fashioned, in not a bad way, from the romantic Rogers and Hammerstein songs to the ancient musical director with fantastic thick white hair, from the drummer who was one of the Mouseketeers and the small Australian orchestra to Peters's spectacular sparkly lavender dress that looked like it could have been on the verge of a wardrobe malfunction with a high slit right up the centre, but was far too well made for that.
I myself am hoping that I have the same energy and verve at 66 years old, though there are few people of any age that matches Peters's va-va-voom, the famous tight red curls, sultry voice and curvaceous figure. The voice, of course, is the most important, and with such range, a bit of fun and quite a few delicate musical choices, she sang a whole range of show tunes made famous by her and others. I found 'Johanna' from Sweeney Todd and 'In Buddy's Eyes' from Follies particularly lovely, loved her renditions of two Peter Allen songs, as well as the way she used them to connect to her audience, and 'Send in the Clowns' was as lovely as the first time I'd heard it from her. 'Being Alive' was unexpected (for me) as an encore; it was fun to hear her sing 'Children will listen' from Into the Woods. She's a consummate entertainer and performer, and knows just the right amount of patter and how to connect to the audience, though the weird routine about trying to sell one of her country houses was… unappealing.
I'd think we would be in the minority to admit that we didn't necessarily feel touched by the performances. To me, it feels like she's one of the most fabulous actors around and can add all of the right parts of emotions to each part of a song, a word or a note that adds up to a spectacular rendition, but the songs are performed rather than felt. But I did feel a warm fuzzy feeling with her closer, a lullaby that she'd unusually written herself.
The other conclusion I came to during the concert was that Australian audiences are rather unsophisticated. Or is it this bad all around the world? A couple behind me would start talking as soon as the applause started but wouldn't manage to shut up again before the next song started. A chirpy woman next to S. was clearly trying not to sing aloud along with Bernadette, but couldn't help herself. I often feel during concerts and movies like people feel they're in their lounge rooms, chattering away with no concept that there are OTHER PEOPLE IN THE ROOM. You could drive a person crazy, indeed.