Aldi is a phenomenon. I love it. The middle aisles, filled with their current specials, are like a surprise door from a game show: What's behind door number 3 today? While Aldi has provided me with various delights over time (mmm… truffle butter), a few days ago, I stumbled on a tiny jar of truffles, so to speak, from Casa Barelli labelled as Burgundy Truffles, for $8.
I was preparing an afternoon birthday party (my own) with snacks from Italy, as we've just returned from there. So, I thought I'd figure out a way of using them; I'm sure I was first introduced to truffles in Italy. I searched online and saw that while a number of people online have bought them from Aldi, and asked what to do with them, no one has really reported on the result. So, I thought I'd do a favour for the next person to do an online search…
The one piece of information that I found was someone who said these are a Chinese variety of truffles, and brined (yup, that's how they came) and that they lacked the flavour of the real deal. I was going to douse them with truffle oil, but even the smallest bottle I could find at Harris Farms was $20, so I thought I'd be brave and do without.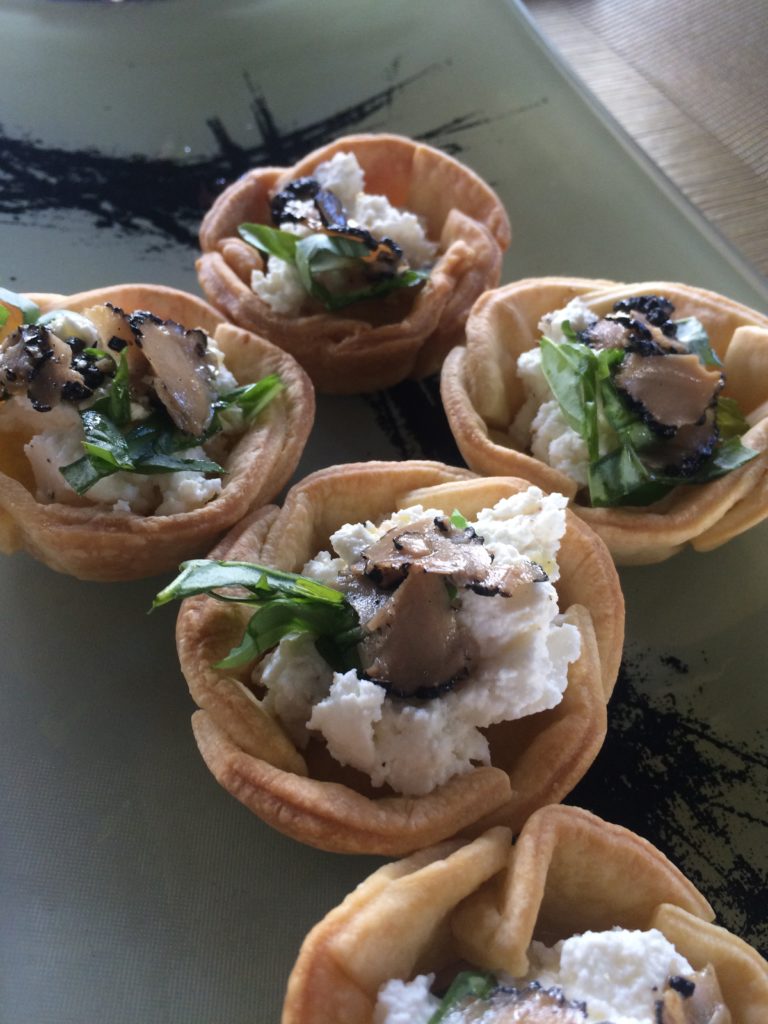 While I really wanted to find savoury tart shells, I couldn't! So, I made my own out of frozen shortcrust pastry (that turned out much better than I thought), filled them with fresh ricotta (delicious, and better than when I've made it myself, and relatively cheap as I went for the cow's milk version rather than buffalo milk), and then put thin slices of the truffle on top (with a bit of basil to top it off).
The result? Not bad at all. It had the texture of shaved truffle that I've had in the past, slightly woody, almost a nut-like texture. It was missing a hit of truffle flavour so perhaps I should have gone for the truffle oil (or mixed in a bit of truffle oil with the ricotta). But for only $8, this was worth a try. If anyone's reading this and has used this, tell us about it in a comment!
I liked it enough to buy another jar but this time a 'truffle salsa'. I mixed in about one-third of the jar with some pasta and cream and… you could barely taste the flavour at all. I should have just dumped the whole jar in.
I'm amused that as of September 2019, I see that this blog post, a little over a year old, is one of the most popular posts on my website! But still no comments. I'm still wondering: is anyone else enjoying these? Or do they just find them a poor imitation of expensive truffles?