After the memorial for Ramon, I was about to leave when I heard his sister asking a small group of people, 'What shall we do with his books? They were his most prized possessions. How can we get them to a good home?'
I though immediately of Writing NSW, with their big office in Rozelle, who have a library, and I thought: I can help out. I couldn't imagine trying to sort out a loved one's possessions in a city that wasn't mine. And it's one of my traits, to try to put everything in its right place.
I did not know Ramon Loyola well, a Filipino poet, who had lived in Sydney for decades, and died suddenly from a brain aneurysm in September at the age of 51. He had introduced himself to me at The Bookshop Darlinghurst once, and pointed out his books, self-produced poetry books that he was leaving for sale there. I looked him up online afterwards and I think I would have run into him another time or two at literary events, and then remember him reading the work of a Filipino writer at the launch of Julie Koh's Books Actually's Gold Standard at Better Read than Dead. From the event, he posted a photo of me and Tom Cho talking, calling us 'brilliant writers' and himself a 'fan boy'. I found that flattering. He wished me happy birthday on Facebook every year.
And when I heard he'd died, I wanted to go to his memorial, organised by Michele Seminara, who worked with him on the literary magazine Verity La. She asked for readers for his poems, and I wanted to read one of his poems  to honour him. I never had the chance to tell Ramon how much I admired his quiet determination to write, constantly, and to get his writing out to the world, through his books (one of the latest of which was published by Vagabond Press, who I also admire) and his websites. I knew he had a true passion for words, and for sharing them with others.
The memorial was on Labour Day weekend, so a number of his friends couldn't make it and were away. It was an intimate, beautiful gathering at a Turkish restaurant in Glebe. His sisters, one who had flown in from the Philippines and the other from California, his brother who lives in Sydney, and his favourite niece from the Philippines were all there. There were beautiful cards printed with one of his favourite photos of himself on the front, and a poem on the back, appropriately, a farewell.
It was wonderful to learn more about him: that he was from a family of 8 children, how shy he was, how he didn't like photos of him smiling as he believed it made his face look too wide, how he was respected as a lawyer at his workplaces, and how he was so positive and supportive of other writers. He was always working on his writing, never feeling it was good enough, and likely had no idea how much he was loved and respected. His niece explained that when they were together, they would sing, always, and one of his favourites was the Carpenters. She sang, a capella, in a beautiful voice, shaking with emotion 'I won't a last day without you'. It broke my heart.
His sister told us that he loved his mother so much that he sent her money regularly to take of her. But she in turn loved Ramon so much, and hoped that he would come back to the Philippines to retire and would need money, so she saved all the money that he sent her… for him. She also told us that his apartment was a mess! He spent all his time on the more important tasks of writing (or reading or watching DVDs and listening to CDs) rather than taking care of the place.
A few days after, I had realised that Ramon's family needed to get his books out from his apartment: they had important things to do, finishing cleaning up and cleaning out the apartment, getting permission to get him back to the Philipines for his funeral, and then fly home. The organisations I had thought of to take books may take a few, but not all: it would be easiest for me to just to take them all and figure it out. So, late at night, when Ramon's brother Rey could park his car outside of Ramon's Newtown apartment and load up eight large packing boxes of books, he and his beautiful niece Chrissy dropped them all off at my apartment building in Surry Hills.
And now I'm surrounded by Ramon's books, and getting to know him through them. A huge collection of mostly literature with bookmarks and receipts from Better Read than Dead in Newtown, the Bookshop Darlinghurst, Oscar & Friends, Elizabeth's, the Book Depository and Booktopia. He had a healthy collection of gay fiction (which I'll give to Twenty Ten, the LGBT youth counselling service). We had many favourite authors in common such as Michael Cunningham, Jonathan Franzen and Edmund White. The great writers are all here like Alice Munro, Salman Rushdie and Gabriel Garcia Marquez. He had a good amount of Australian writers: Helen Garner, David Malouf, Patrick White. A stack of books from Filipino writers and on Filipino history, which I'll get to his friend Eunice, a young Filipina writer, who spoke at the memorial service.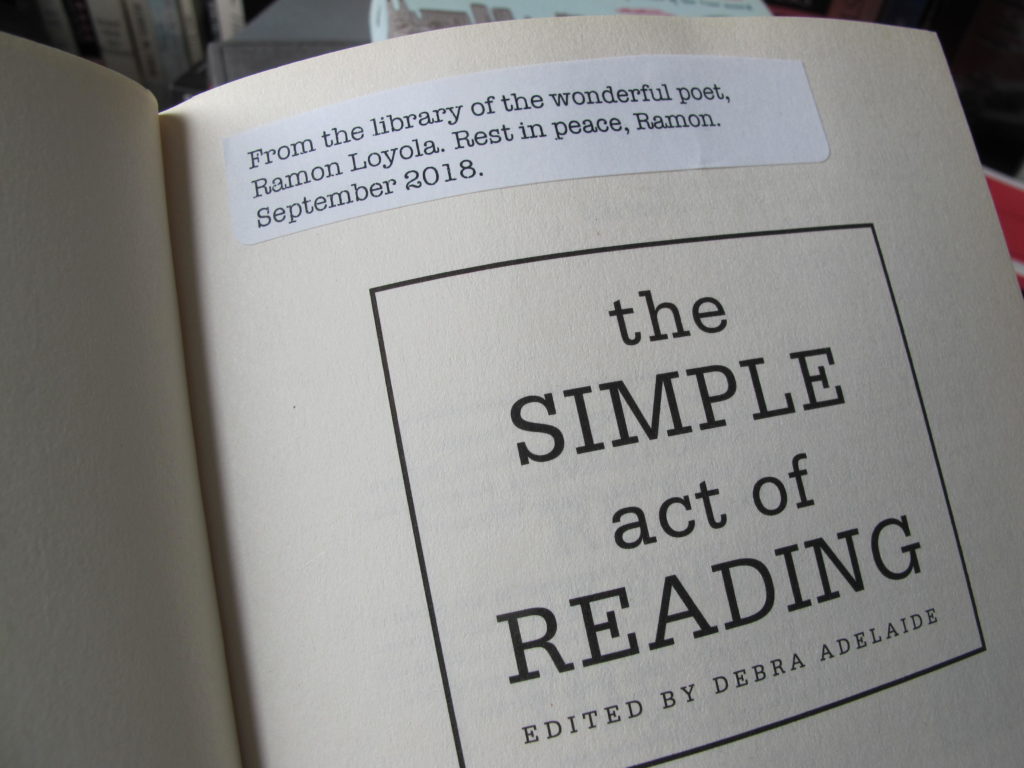 There was also a collection of Anne Rice in hardcover, as well as the books of her son Christopher Rice, and a handful of other fantasy and horror books, as well as a handful about Australian soldiers, and the war. He was an eclectic reader and there were many books of contemporary international and Australian fiction.
The other largest selection is books of poetry, and many of them anthologies of new and younger writers, put out by various Australian writing collectives and universities. I would guess that there were poetry books from nearly every Australian poet that I know. You can feel that he was both interested in other people's writing, but also supportive. I found copies of all four of my books; most of my friends don't even have the full Andy Quan collection.
There were many Australian literary magazines, and some international ones. A stack of reference books, dictionaries and phrase books, and many books about writing and how to be a writer and how to read fiction. A small stack of legal reference books, which I'll get to my lawyer who works not far from me. There are books that hint at other passions – on photography and drawing – and preoccupations – anxiety, being an introvert, how to combine work with passion.
Today, there's an article in the New York Times about tsundoku, a Japanese word referring to the books you've bought but not yet read. Kevin Mims says that the 'sight of a book you haven't read can remind you that there are many things you've yet to learn. And the sight of a partially read book can remind you that reading is an activity that you hope never to come to the end of.' I like those sentiments, wondering which of these books Ramon read, and which he didn't get around to reading, and which of his books that I find new homes for will be read or unread.
Now, they'll go out to the world, reminders of Ramon. I've printed up a label to put near the front of the books, and I picture, for decades, people picking up books and finding the inscription and either remembering Ramon or googling him to find out who he was. I'm good at this giving away business. I've been through it, helping my Mom clear out the family home after Dad died, so she could move into a much smaller apartment. I've invited various of Ramon's friends to come over to look at his books, have taken a stack for myself, and have a few organisations in mind to give them too. The Australian Red Cross or the Wayside Chapel might get the last ones. It makes me wonder about where my books will go, when I die.