Previous review from May 2015; Zomato says it was viewed 21,057 times
There's this thing going on in Sydney cafés at the moment which seems to be a moment. Lots of wood, a bit of iron. Great coffee, moving into cocktails and drinks after work. A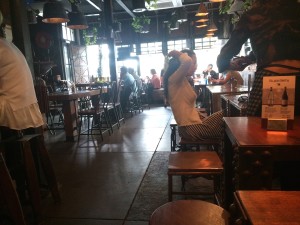 casual feel but a contemporary, smart menu with a nod to those are health-conscious and a friendly, jokey Australian tone. Lighting not too bright.
Blacksmith has always been busy when I've went by so we decided to stop by for lunch in March. There was an amusing sign about caffeine addicts near the coffee machines and a glass counter that looked full of luscious pastries.
My lunch pal had a baguette and seemed pleased with it. Also a blue protein shake and drink and we're wondering whether the mason glass jars will ever go away, or whether they've just become part of local culture. I had a combo salad because I couldn't decide between the green one (with risoni and broccoli and pesto) and the chicken confit and… oh, I don't remember all the ingredients. It was delicious.
I went back in July for brunch, and had this luscious breakfast burger pictured below. My better half had a very healthy quinoa salad with avocado and goat's cheese and stuff. Yummy, and lovely to sit outside on a sunny winter's day. The place was hopping!
With Meadow Cafe just across the street and a stumble into the park away, how did two such good cafés open so near to each other within a year?